Lighting plays an essential role in setting the mood, creating a comfortable ambiance, and enhancing the aesthetics of your home. Whether you are working from home, enjoying a cosy night in, or entertaining guests, having the perfect lighting can make all the difference. However, with so many options and styles available, it can be overwhelming to choose the right lighting for each room in your home. In this article, we will share some tips and tricks to help you create the perfect lighting for your home.
Living Room:
The living room is where you relax, socialize, and unwind, so it's essential to choose lighting that can adapt to the different activities you do in the space. To create a warm and inviting ambiance, mixing up different lighting types like recessed, floor lamps, and table lamps is key. Incorporating dimmers is also an excellent option to customize the level of light to your mood or activity. Ensure the lighting fixtures are placed at different angles and levels to avoid glare and ensure a well-lit and comfortable atmosphere.
Kitchen:
The kitchen is where you cook, eat, and entertain, so it's crucial to have functional lighting. Overhead lighting is essential to brighten a larger area like the kitchen, but under-cabinet lighting can help illuminate your workspace, making meal prep more manageable. Pendants above an island or counter give a decorative accent to the space while also providing task lighting. Dimmers are also an excellent option for kitchen lighting to adjust the brightness to your needs.
Dining Room:
The dining room is where you host dinner parties or enjoy intimate family meals, so lighting that creates a warm and inviting ambiance is necessary. A chandelier or pendant light is an excellent option for the center of the room to provide a warm glow and a visual focal point. Wall sconces or lamps placed around the perimeter of the room can supplement the overhead lighting and create a cosy atmosphere. Dimmers can also help you adjust the lighting to your liking.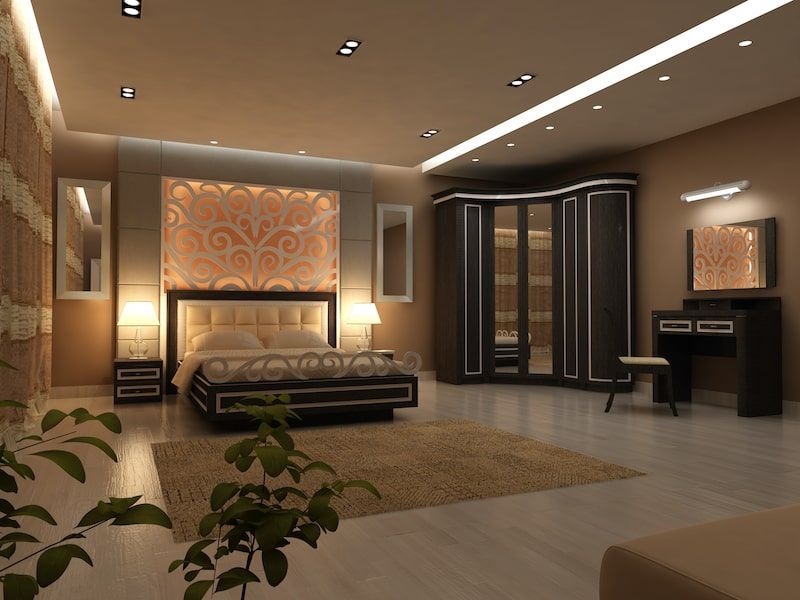 Bedroom:
The bedroom is where you relax and unwind, so lighting that promotes relaxation is necessary. Warm, ambient lighting is key to creating a tranquil atmosphere in your bedroom. Table lamps or floor lamps with soft shades provide ideal task lighting for reading, while adjustable swing-arm wall lamps can provide some flexibility in mood lighting. Installing dimmers will help you adjust the brightness to your needs.
Bathroom:
The bathroom is where you groom and prepare for the day, so bright, white light that avoids shadows is necessary. Overhead lighting placed near the vanity mirror provides essential basic lighting, while sconces on either side of the mirror enhance your grooming tasks' visibility. Adding a dimmer switch helps you create a more flattering and soothing light that can create a serene environment in your bathroom.
Choosing the right lighting for each room in your home is essential to create the right atmosphere for any activity. Mix different lighting types, adjust the brightness with dimmers, and place fixtures at different angles to create a cosy and inviting space. With these tips and tricks, you will be able to create the perfect lighting for your home.